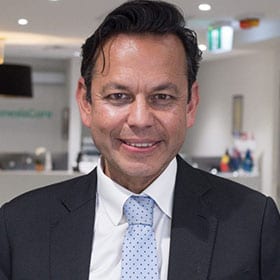 FRANZCR, Radiation Oncologist
Expert in
Prostate and urological, haematological, lung cancer, and upper GI cancers
Special clinical interest in prostate and urological, haematological, lung cancer, and upper GI cancers.
Dr Jagavkar is a senior radiation oncologist with over 20 years' experience and has been practicing on the St Vincent's Campus as a Staff Specialist and HMO since 2002. He has extensive experience with the St Vincent's Campus' past and present organisational structure and management. 
He was an original radiation oncologist partner of GenesisCare since its commencement in 2004 and has been intrinsic to the company's clinical and commercial growth to a global level. 
He graduated with honours in 1992 from the University of NSW and obtained his specialty FRANZCR fellowship in 2000. He has served as the Director of Radiation Oncology at St Vincent's Hospital, Chairman of the Australasian Brachytherapy Group (ABG), and has been the Chair/Vice chair of multiple clinical and hospital advisory bodies including the St Vincent's Clinic and Jean Colvin Private Hospital Medical Advisory Committees.
He has served on numerous local and national management levels and has high level experience with governance for the provision of high quality care for all.
Clinical research and teaching.
RANZCR
ANZUP
ASTRO
ABG
St Vincent's Clinic Board of Trustee
RS Jagavkar et al (co-author), "Treatment of localized prostate cancer using a combination of high-dose rate  Iridium-192 and external beam irradiation: Initial Australian Experience" Australasian Radiology (2003)47, 152-160