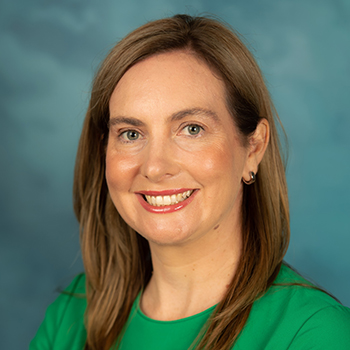 Dr Monique Menzies Wojtowicz
BAppSc(Pthy), MBBS(Hons), FRACP, FRCPA, MClinTRes, Haematologist
Haematology is a fascinating specialty that provides the opportunity to integrate the art and science of laboratory and clinical medicine. I am passionate about offering modern, high-quality care for patients.
Clinical interests include lymphoma, transfusion medicine, clinical trials research, medical education and quality improvement initiatives.
Dr Monique Menzies Wojtowicz completed her medical degree with honours through the University of Sydney and physician training at Concord Hospital in Sydney, followed by Advanced Training in Clinical and Laboratory Haematology at various sites in Sydney.
She developed further expertise in Clinical Trials Research by completing Fellowships in two of the largest Haematology Clinical Research Units in Sydney, in addition to being a member of a Human Research Ethics Committee, completing a Master of Clinical Trials Research and being involved in investigator-initiated research.
Dr Menzies Wojtowicz is interested in lymphoma, transfusion medicine, medical education, quality improvement, guideline development, clinical trials research, and aiming to deliver the best possible care to patients.
She is a member of the ANZSBT Education standing committee and regularly contributes to teaching medical students from The University of Sydney and Macquarie University.

She is a member of the RACP, RCPA, ALLG and ANZSBT and has previously presented at national conferences and webinars. Dr Menzies Wojtowicz has been recognised with the Harry J Clayton Memorial Prize for Medicine and Clinical Medicine in 2009, University of Sydney Teaching Award, 2015, and ANZSBT Travel Grant in 2019.
Dr Menzies Wojtowicz consults at Genesis Hurstville and Macquarie University Hospital and MQ Health Clinics.
Clinical research interests in lymphoma and transfusion medicine, with the aim to help improve outcomes and quality of life for haematology patients.
Royal Australasian College of Physicians (RACP)
Royal College of Pathologists of Australasia (RCPA)
Australasian Leukaemia and Lymphoma Group (ALLG), ALLG Lymphoma Working Party member
Australian & New Zealand Society of Blood Transfusion (ANZSBT), ANZSBT Education Standing Committee member
Waldenstrom Macroglobulinemia Optimal Care Pathway Working Group
RACP and ANZSBT Evolve Top-Five Recommendations on low-value practices: blood transfusion 2022. https://anzsbt.org.au/wp-content/uploads/2022/03/FINAL-evolve_topfive_anzsbt.pdf
G Mills, J Moore, E Cliff, CY Fong, S Mangalasseri, C Tiley, M Gilbertson, M Ku, A Bazargan, M Bryson, M Menzies Wojtowicz, N Sungala, I Cunningham, C Tang and N Hamad. Promising Real World Survival Data in Adult-Onset Langerhans Cell Histiocytosis: An Australasian Lymphoma Alliance 20 Year Retrospective Study. American Society of Haematology 2021.
M Menzies Wojtowicz, P Motum, V Dhir. Extended Life Plasma – Blood Wastage and Opportunities. Transfusion Medicine February 2020
M M Menzies Wojtowicz, S MacCallum and D Stern. An evidence based audit of fresh frozen plasma (FFP) use at SEALS pathology over Winter 2016 and new local guidelines for appropriate use of FFP. Vox Sanguinis 2018; 113(Suppl. 1):325.
Redfern J, Menzies M, Briffa T, Freedman SB. Impact of medical consultation frequency on modifiable risk factors and medications at 12 months after acute coronary syndrome in the CHOICE randomised controlled trial. International Journal of Cardiology 2010;145(3):481-486