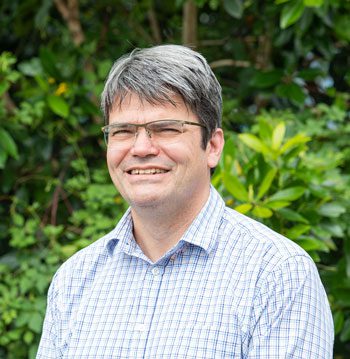 MBChB, FRACP, FRANZCR, PhD, Radiation Oncologist
Expanding treatment options for patients with resistant and hard to treat cancers is my passion and mission.
Special clinical interest in theranostics, gastrointestinal, skin, lung, neuro-oncology, palliative care, and stereotactic radiosurgery.
Dr Fay trained in medical oncology and moved to radiation oncology with research interests in lung and neuro-oncology. Dr Fay completed his undergraduate degree in Medicine and Surgery at University of Otago and completed his PhD on integration of advanced images into brain tumour treatment. He has worked in 36 hospitals across five countries, including the US, Germany, UK, New Zealand and Australia. Dr Fay is also the Chief Medical Officer at AdvanCell Isotopes.
Funded by the Mark Hughes Foundation, Dr Fay was named as the inaugural recipient of a three-year HMRI Mid-Career Research Fellowship dedicated to brain cancer.
Dr Fay won a prize from the Royal Australian and New Zealand College of Radiologists for his research study on predicting toxicity from radiotherapy which was published in the International Journal of Radiation Oncology Biology and Physics.
Dr Fay's research interests include lung and neuro-oncology with a focus on brain tumours and the development of new imaging and treatment techniques. He is the principal investigator in a number of international cancer trials and collaborations with Canada, the UK and Germany. His research spans across several modalities including PET imagery, MRI imaging and developing multiplexed neuro-imaging techniques. As well as securing over $4.5m in research funding over the last ten years, he is a lead researcher in an NCIC trial into brain tumour treatment in elderly patients.
Dr Fay is fascinated by how PET imaging has revolutionised oncology care in the past 20 years and is set to revolutionise therapy in the development of theranostics. A current research project centres on developing a new PET tracer for use in brain tumours. Dr Fay is looking forward to using new imaging tools to better understand treatment resistant mechanisms and optimise brain cancer treatments.
Dr Fay is a member of ASCO, ASTRO and COGNO and on the editorial board of The Journal of Translational Lung Cancer Research.