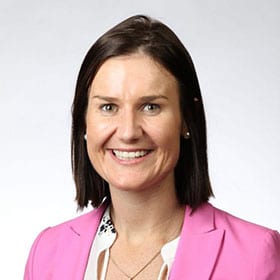 BMedSci, MBBS (Hons1), FRACP, PhD, Medical Oncologist
Looking after people at the most vulnerable time in their lives whilst navigating a cancer diagnosis is a privilege.
Special clinical interest in treating lung/thoracic cancers, and gastrointestinal cancers including pancreatic. Expertise in molecular therapies for oncogene driven cancers.
Malinda is originally from a small town in Tasmania and completed her undergraduate medical degree through UTas in 2009. She worked at the Royal Hobart Hospital before moving to Sydney in 2012 to begin specialist training at Royal North Shore Hospital.
Malinda was admitted as a Fellow of the Royal Australasian College of Physicians in 2016 in Medical Oncology, and thereafter in 2020 awarded the degree of Doctor of Philosophy through USyd for her bedside to bench top research into drug resistance in ALK gene driven lung cancers. During her doctoral studies she worked part time as a Staff Specialist Medical Oncologist and Locum Oncologist at Royal North Shore and North Shore Private Hospitals and the Northern Cancer Institute.
Malinda is passionate about multidisciplinary comprehensive cancer care, optimising an efficient cancer diagnosis, patient advocacy, streamlining care including clinical trial inclusion, and undertaking research in to understanding and preventing drug resistance in cancer.
When not at work, Malinda and her husband spend time with their young daughter and their chihuahua and she enjoys exercise with long distance running and de-stressing with cross training in the gym.
She is a great supporter of the positive impact and evidence for exercise in all avenues of cancer care and wellness.
Treatments:
Systemic cancer therapies including: chemotherapy, immunotherapy, targeted therapies; monoclonal antibody therapy, antibody drug conjugates, small molecule tyrosine kinase inhibitor therapy and experimental clinical trial agents.
Understanding mechanisms of, and strategies to prevent, drug resistance in molecularly driven lung cancers
Maximising diagnostics and the multidisciplinary team treatment approach in lung and pancreatic cancer
Inaugural NSW Health PhD Scholarship 2017-2020
Pfizer ANZ Clinical Trial Medical Grant 2017-2022
Fight for a Cure Translational Research Grant 2019
Sydney Vital Research Scholar Awards 2018, 2019
Thoracic Oncology Group of Australasia (TOGA)- Early Career Representative, Scientific Committee
Clinical Oncology Society of Australia (COSA)- Lung Cancer Chair
International Association for the Study of Lung Cancer (IASLC) Member
Australasian Gastrointestinal Trials Group (AGITG) Member
Itchins M et al. Precision Medicine Clinic: Molecular Tumor Board ALK-rearranged non-small cell lung cancer in 2020: Real-world triumphs in an era of multi-generation ALK-inhibitor sequencing informed by drug resistance profiling. The Oncologist. 2020;25(8)641-649
Alexander M… Itchins M. A multicenter study of thromboembolic events among patients diagnosed with ROS1-rearranged non-small cell lung cancer. Lung Cancer. 2020;142:34-40
Itchins M et al. Pattern of Care and Survival of Anaplastic Lymphoma Kinase Rearranged Non-Small Cell Lung Cancer (ALK+ NSCLC) in an Australian Metropolitan Tertiary Referral Centre. A Retrospective Cohort Analysis. Asia Pac J Clin Oncol. 2018;14(5):e275-82
Itchins M et al. Treatment of ALK-rearranged non-small cell lung cancer – a review of the landscape and approach to emerging patterns of treatment resistance in the Australian context. Asia Pac J Clin Oncol. 2017; 13:3-13
Itchins M et al. Retrospective cohort analysis of neoadjuvant treatment and survival in resectable and borderline resectable pancreatic ductal adenocarcinoma in a high-volume referral centre. Eur J Surg Oncol. 2017; 43(9):1711-7