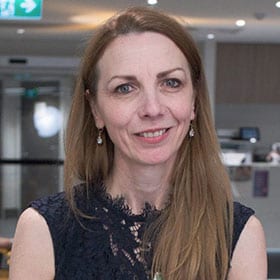 MBBS Hons (Uni Syd), FRANZCR FRACP MRCP, Radiation Oncologist
I believe that it is a privilege to care for my patients, and I endeavour to offer supportive personalised care throughout their treatment journey.
Clinical interests in breast cancer, cardio-oncology, and palliative care.
Jo is a Sydney-based radiation oncologist at GenesisCare, St Vincent's Clinc, and a visiting scientific officer at the Garvan Institute of Medical Research. Jo is a Conjoint Lecturer at the University of New South Wales and the University of Notre Dame and coordinates medical student rotations within the radiation department.
Prior to her current appointment Jo worked at Chris O'Brien Lifehouse and was a senior lecturer at the University of Sydney. Her clinical interests include breast cancer and palliative care. Jo is an integral member of the breast multidisciplinary team, and has a special interest in survivorship, and treatment techniques and management of patients with breast cancer.
Jo aims to deliver personalised evidence-based care to her patients, and collaborates with and offers access to different Allied health service providers including for example, a Lymphoedema therapist.
Breast cancer survivorship
Cardio-oncology
Peng V, Suchowerska N, Esteves ADS, Rogers L, Claridge Mackonis E, Toohey J, McKenzie DR. Models for the bystander effect in gradient radiation fields: Range and signalling type. J Theor Biol. 2018 Oct 14;455:16-25
Malloy T, Millar E, Graham P, Toohey J, Carroll L, Drury A, deBock C. miR-139-5p modulates radiotherapy resistance in breast cancer by repressing multiple gene networks of DNA repair and ROS defense. Cancer Research. 2018 Jan 15;78(2):501-515.
Gee HE, Buffa FM, Harris AL, Toohey JM, Carroll SL, Cooper CL, Beith J, McNeil C, Carmalt H, Mak C, Warrier S, Holliday A, Selinger C, Beckers R, Kennedy C, Graham P, Swarbrick A, Millar EK, O'Toole SA, Molloy T. MicroRNA-Related DNA Repair/Cell-Cycle Genes Independently Associated With Relapse After Radiation Therapy for Early Breast Cancer. Int J Radiat Oncol Biol Phys. 2015 Dec 1; 93(5):1104-14.
Gee HE, Bignell F, Odgers D, Gill S, Martin D, Toohey J, Carroll S. In vivo dosimetric impact of breast tissue expanders on post-mastectomy radiotherapy. J Med Imaging Radiat Oncol. 2016 Feb; 60(1):138-45.
Estoesta RP, Attwood , Naehrig D, Claridge-Mackonis E, Odgers D, Martin D, Pham M, Toohey J, Carroll Assessment of voluntary deep inspiration breath-hold with CINE imaging for breast radiotherapy. J Med Imaging Radiat Oncol. 2017 Apr 22