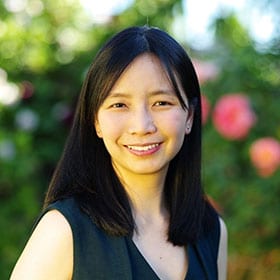 MB BCh BAO MA FRANZCR, Radiation Oncologist
I'm really excited to be a part of the GenesisCare team and am passionate about providing excellent care to patients in regional Victoria.
Expert in
Breast cancer, Gastrointestinal cancer, Lung cancer
Special clinical interest in breast, prostate, lung, gastrointestinal, skin and palliative care.
Dr Grace Ong graduated from Trinity College Dublin, Ireland in 2006 and completed her training in radiation oncology at Andrew Love Cancer Centre, Olivia Newton John Cancer Centre and Peter MacCallum Cancer Centre. She subsequently undertook a clinical fellowship with Genesiscare Victoria prior to being appointed at Genesiscare Shepparton as a Radiation Oncologist in 2019.
Her clinical interest includes breast, prostate, lung, gastrointestinal and skin cancers but also has a strong interest in management of cancers in the elderly.