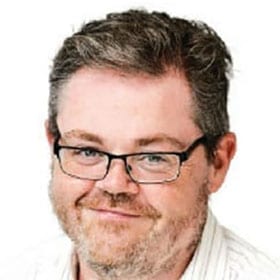 BSc (Hons), MBChB, MRCP (UK), FRCR, FRANZCR, Radiation Oncologist
Clinical interests in head and neck cancers, skin malignancies, central nervous system(CNS) and general oncology.
Dr Gerry Adams is a consultant Radiation Oncologist with GenesisCare Queensland working at our Bundaberg Centre.

Dr Adams qualified in medicine from the University of Edinburgh. He completed post-graduate training in Internal Medicine (MRCP 2005) followed by specialist training as a Clinical Oncologist at Clatterbridge Cancer Centre (FRCR 2009). His specialist training included a one-year Fellowship at the Royal Adelaide Hospital in 2011 during which time he obtained Fellowship of the Royal Australian and New Zealand College of Radiologists. Gerry undertook a further Fellowship at Brisbane's Princess Alexandra Hospital in 2012, where he worked predominately with head and neck cancers, skin cancers and stereotactic radiotherapy.
After a short period in Darwin Gerry moved to Bundaberg in September 2013 as the first Radiation Oncologist for the new local radiation oncology service. Gerry has helped develop and expand that service over the years; including the public private partnership in 2014 and the opening of a second Wide Bay practice in Hervey Bay in 2014.
He has published several research papers, reviews and book chapters, presented at national and international conferences and is an active member of Faculty of Radiation Oncology, sitting on the Quality Improvement Committee (QIC).
Gerry is available to see private patients in Bundaberg both as outpatients at the GenesisCare facility or at either private hospital if required. He is also an Honorary Visiting Medical Officer at Bundaberg Base Hospital where he attends regular outpatient clinics at the Cancer Care Centre. He attends multidisciplinary meetings in both the public and private setting.