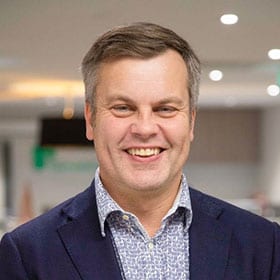 MBBS (Hons), FRANZCR, GAICD, Radiation Oncologist
Clinical interests in head and neck, skin cancers.
A/Prof Dion Forstner is a conjoint Associate Professor with UNSW and has worked for GenesisCare in NSW since 2018. Dion is based at St Vincent's Hospital and Macquarie University Hospital and prior to this he was Head of Department of Radiation Oncology in South Western Sydney Local Health District for 9 years. His clinical focus is in the management of head and neck, and skin cancers. He is site director at GenesisCare, St Vincent's Clinic in Darlinghurst, NSW. He is the Acting Director of Cancer Services with St Vincent's Health Network Sydney based at the Kinghorn Cancer Centre.
Dion had an idyllic childhood growing up in Tasmania and graduated from the University of Tasmania with honours in 1994. He trained in radiation oncology in South Australia, and then practiced for 15 years in South-Western Sydney. Dion set up multidisciplinary clinics for head and neck cancers with very broad multidisciplinary membership. He has an interest in the appropriate implementation of new technology, and ensuring sustainable funding of care. Dion has had many education roles and long had a passion for looking after our future – our trainees, and also his leadership roles that have been driven by a need to take greater care of our existing workforce.
From 2014 to 2018 Dion headed up the professional body for radiation oncologists in Australia and New Zealand as Dean of Faculty of Radiation Oncology (FRO) at the Royal Australian and New Zealand College of Radiologists (RANZCR). In that role, he had a strong interest in quality, workforce, education and advocacy. He remains involved with RANZCR as Chair of the MBS working group – leading implementation of the completely new MBS schedule for radiation oncology and he is involved in training as a clinical supervisor, an assessor for accreditation of training sites and as an assessor of international medical graduates. Dion is President of the Clinical Oncology Society of Australia (COSA) which is the peak national body representing health professionals from all disciplines whose work involves the care of cancer patients. He sits on the Boards of the COSA and Head and Neck Cancer Australia and is a member of the NSW Government's Radiation Advisory Council. He was a member of Cancer Australia's Australian Cancer Plan Advisory Group.
Medical leadership
Medical education
FRANZCR
ASTRO
ESTRO
TROG
COSA
Rumley C, Lee M, Holloway L, Rai R, Min M, Forstner D, Fowler A, Liney G: Multiparametric magnetic resonance imaging in mucosal primary head and neck cancer: a prospective imaging biomarker study: BMC Cancer. 2017 Jul 10;17(1):475. doi: 10.1186/s12885-017-3448-5.
Lin P; Min M; Lee M; Holloway L; Forstner D; Bray V; Fowler A, 'Nodal parameters of FDG PET/CT performed during radiotherapy for locally advanced mucosal primary head and neck squamous cell carcinoma can predict treatment outcomes: SUV mean and response rates, European Journal of Nuclear Medicine and Molecular Imaging, vol. 44, pp. 801 – 811, 2017 
Min M, Lin P, Lee MT, Ho Shon I, Lin M, Forstner D, Bray V, Chicco A, Tieu MT, Fowler A (2015): Prognostic role of metabolic parameters of 18FDG PET-CT scan performed during radiation therapy in locally advanced head and neck squamous cell carcinoma. European Journal of Nuclear Medicine and Molecular Imaging June vol. 42, pp. 1984 – 1994
Forstner DF, Yap ML: Advances in radiation therapy. Medical Journal of Australia. 2015 Nov 16, 203(10):394-395
Smith BA, Mancuso P, Sidhom M, Wong K, Berry M, Rincones O, Forstner D, Bokey L, Girgis A: Prostatectomy verses radiotherapy for early-stage prostate cancer (PREPaRE) study: protocol for a mixed-methods study of treatment decision-making in men with localised prostate cancer. BMJ Open;7:e018403. doi: 10.1136/bmjopen-2017-018403