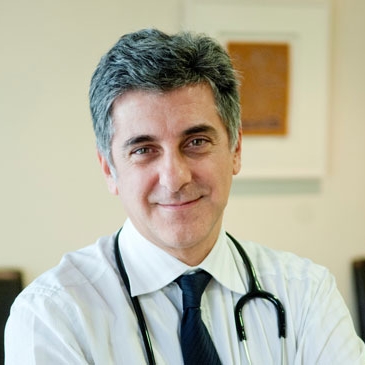 Nuclear Medicine Physician, MBBS, FRACP, AANNMS
It is a privilege to be able to work with patients with advanced malignancies, who may be dealing with uncertain outcomes. I aim to offer personalised, evidence-based care to my patients.
Languages spoken
English, Italian
Clinical interests in prostate cancer, neuroendocrine tumours (NETs), and non-melanoma skin cancer.
Dr Cardaci is a Nuclear Medicine Physician with a long-standing interest in theranostics. He was involved in the early development of SIRT therapy for liver cancer, and continues to offer a clinical service for complex liver tumours. He has been involved in multiple international research trials advancing the field of radionuclide therapy in advanced malignancies. Dr Cardaci's clinical interests are advanced prostate cancer, neuroendocrine tumours (NETs), liver cancer, and non-melanoma skin cancer.
Dr Cardaci also practices as a General Medicine Physician, overseeing a busy medical department at Hollywood Private Hospital, Perth. He is actively engaged in medical student and Basic Physician training, and is Adjunct Associate Professor at University of Notre Dame
Novel treatments for hard-to-treat cancers, non-melanoma skin cancer, and radionuclide therapies.
Kesavan M, Turner JH, Meyrick D, Yeo S, Cardaci G, Lenzo NP.  Salvage radiopeptide therapy of advanced castrate-resistant prostate cancer with Lutetium-177-labelled Prostate-Specific Membrane Antigen: Efficacy and safety in routine practice. Cancer Biother Radiopharm. 2018 Sep;33(7):274-281.
Van Hazel G, Blackwell A, Anderson J, Price D, Moroz P, Bower G, Cardaci G, Gray B.  Randomised phase 2 trial of SIR-Spheres plus fluorouracil/leucovorin chemotherapy versus fluorouracil/leucovorin chemotherapy alone in advanced colorectal cancer. J Surg Oncol. 2004 Nov 1;88(2):78-85.