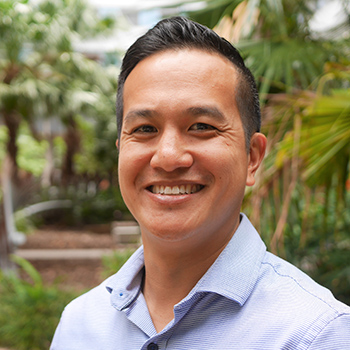 MBBS FRANZCR, Radiation Oncologist
Through an active partnership and strong communication, I am committed to helping patients navigate their cancer journey in a positive way.
Special clinical interest in urological, lung and gastrointestinal cancers, stereotactic radiotherapy for primary and metastatic cancers and palliative radiotherapy.
A/Prof Alex Tan completed his undergraduate degree at the University of Melbourne in 1999 and specialist training at Peter MacCallum Cancer Centre in 2008. He then completed a Fellowship with the Academic Urology Unit at the Royal Marsden Hospital and Institute of Cancer Research in the UK.
Following this, A/Prof Tan returned to Australia to work at the Townsville Cancer Centre until 2021.
A/Prof Tan is interested in the development of new services. He introduced the stereotactic body radiotherapy service to North Queensland in 2013 and led the project which saw the implementation of the first MR-linac in Australia in 2019.
A/Prof Tan is passionate about medical education. He served as the Director of Training at Townsville University Hospital for 8 years and is currently the Chief of Examinations for the Royal Australian and New Zealand College of Radiologists.
He has been principal investigator for a number of national and international trials, has been awarded competitive grant funding for research projects and has been supervisor for a number of PhD students.
These efforts in the education and research sphere have resulted in his appointment as Associate Professor at James Cook University.
A/Prof Tan treats patients at the Buderim and Nambour centres and offers a fortnightly consulting clinic from Noosa Private Hospital.
Appointed Associate Professor, James Cook University School of Medicine and Dentistry in recognition of efforts in the education sphere.
Treatment accuracy, image guidance, motion management, stereotactic radiotherapy, oligometastatic disease, prostate cancer, MRI-guided radiotherapy.
RANZCR
TROG
ESTRO
ANZUP
ASTRO
Russo ML, Nachbar M, Tan A, et al. Impact of endorectal filling on interobserver variability of MRI based rectal primary tumor delineation. Clinical and Translational Radiation Oncology, 2022
Brown A, Pain T, Tan A. Men's preferences for image guidance in prostate radiation therapy: A discrete choice experiment. Radiotherapy and Oncology, December 2021
Patel D, Brown A, Pain P, Tan A. Absence of prostate oedema obviates the need for delay between fiducial marker insertion and radiotherapy simulation. Journal of Medical Radiation Sciences, July 2020
Shankar M, Kim A, Brown A, Tan A. Anatomical and dosimetric assessment of the prostate apex: A pilot comparison of image-guided transperineal ultrasound to conventional computed tomography simulation. Journal of Medical Imaging and Radiation Oncology, May 2020
Ngoo A, Tan A, Mushaya C, Ho YH. Short and long course neoadjuvant therapy compared for management of locally advanced rectal cancer: 11 years' experience at a regional centre. ANZ Journal of Surgery, Jan 2020
Brown A, Tan A, Cooper S, Fielding A. Obesity does not affect prostate intrafractional motion. Journal of Medical Radiation Sciences, Jan 2018
Oates R, Brown A, Tan A, et al. Real-time Image-guided Adaptive-predictive Prostate Radiotherapy using Rectal Diameter as a Predictor of Motion. Clinical Oncology, March 2017, 29 (3): 180-7.
Foroudi F, Bressel M, Tan A, et al. Quality of Life of patients treated with Radical Adaptive Image-guided Radiotherapy for Muscle Invasive Bladder Cancer. Asia-Pacific Journal of Clinical Oncology, July 2016, 12:27-8.
Foroudi F, Pham D, Tan A, et al. The outcome of a multi-centre feasibility study of online adaptive radiotherapy for muscle-invasive bladder cancer. Radiotherapy and Oncology, May 2014, 111(2):316-20.
Tan A, Parker C. Radiotherapy in locally advanced prostate cancer. Lancet 2009 Jan 24; 373(9660): 274-6.
Fay M, Tan A, Fisher R, MacManus M, Wirth A, Ball D. Dose-volume histogram analysis as predictor of radiation pneumonitis in primary lung cancer patients treated with radiotherapy. Int J Radiat Oncol Biol Phys. 2005 Apr 1; 61(5): 1355-64.
Tan A, Ngan SYK, Choong PFM. Post-radiation sarcoma of the neck treated with re-irradiation followed by wide excision. World Journal of Surgical Oncology 2006; 4: 69