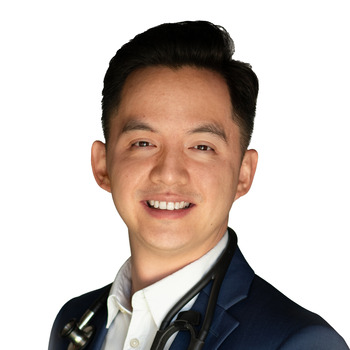 MBBS (Hons) FRACP FRCPA, Clinical Haematologist
Clinical interest in non-hodgkin lymphoma, hodgkin's lymphoma, myeloma and leukaemia.
Dr Collin Chin is a Clinical and Laboratory Haematologist who graduated from the University of Western Australia in 2011 and completed his specialist training at Royal Perth Hospital, Fiona Stanley Hospital and Sir Charles Gairdner Hospital. He then completed a fellowship in Aggressive Lymphoma and CAR-T cell therapy at the Peter MacCallum Cancer Centre, followed by a sub-specialty fellowship in Lymphoma and Myeloma at the University of Texas MD Anderson Cancer Center in Houston, Texas.
Dr Chin has a clinical interest in the management of haematological disorders with a focus in B-cell lymphoma and cancer therapies including CAR-T cell therapy. Dr Chin has been invited to speak and chair at national and international conferences, and is an established clinician researcher with publications in leading peer-reviewed journals. Dr Chin's career goals are to bring cancer therapies and cancer care to patients in Western Australia.
Aggressive B cell lymphoma
Indolent B cell lymphoma
Immune effector cell therapies (CAR T-cell therapy, bispecifi c antibodies)
Australian Medical Association (AMA)
American Society of Haematology (ASH)
International Society for Cell & Gene Therapy (ISCT)
Haematology Society of Australia and New Zealand (HSANZ)
Nastoupil LJ, Chin CK, Westin JR, Fowler NH, Samaniego F, Cheng X, Ma MC, Wang Z, Chu F, D'souza L, Obi C, Mims J, Feng L, Zhou S, Green M, Davis RE, Neelapu SS. Safety and Activity of Pembrolizumab in combination with Rituximab in relapsed or refractory follicular lymphoma. Blood Adv. Feb 2022. DOI: 10.1182/bloodadvances.2021006240
Chin CK, Lim JK, Lewis KL, Jain P, Qing Y, Feng L, Cheah CY, Seymour JF, Ritchie D, Burbury K, Tam CS, Fowler NH, Fayad LE, Westin JR, Neelapu SS, Hagemeister FB, Samaniego F, Flowers CR, Nastoupil LJ, Dickinson MJ. Autologous stem cell transplantation for untreated transformed indolent B-cell lymphoma in fi rst remission. Br J Haematol. October 2020. DOI: 10.1111/bjh.17072
Chin CK, Rodriguez A, Qing Y, Feng L, Samaniego F, Jain P, Noorani M, Fowler NH, Fayad LE, Westin JR, Neelapu SS, Hagemeister FB, Flowers CR, Nastoupil LJ. Impact of maintenance rituximab in patients with de novo transformed indolent B cell lymphoma. Leuk Lymph. July 2020. DOI: 10.1080/10428194.2020.1789631
Chin CK, Medeiros J, Hagemeister F, Lee HJ. Hodgkin Lymphoma (Book Chapter). The MD Anderson Manual of Medical Oncology (4E). 2022.
Chin CK, Nastoupil LJ. Novel Agents Beyond Immunomodulatory Agents and Phosphoinositide-3-Kinase for Follicular Lymphoma. Hematol Oncol Clin N Am, 34(4). May 2020. DOI: 10.1016/j.hoc.2020.03.002