At GenesisCare Research & Insights, we see and do things differently
Our integrated approach to research places patients at the heart of every study. We see first-hand the positive impact quality clinical research has on the lives of patients and their families.
We turn small ideas into practice-changing research and translate real-world insights into real-world patient impact.
We are the first full-service Contract Research Organization (CRO) and integrated Site Research Network in Australia, and one of few truly integrated research organisations globally. Our network is also home to a dedicated Imaging Research Organization (IRO), as well as an independent US Sponsor Unit.
Our unique network approach to oncology research allows us to expedite clinical trial build and patient accrual. Our integrated model of research services seeks to facilitate faster, better designed, and more cost-effective therapeutic development.
Global reach, global insight
As the clinical research arm of GenesisCare, we are uniquely positioned as a global oncology service provider, with a scaled clinical presence across three continents. We have 350 cancer care clinics treating approximately 400,000 patients per annum offering a large, integrated channel for rapid study start up and patient recruitment.
Our experienced team of clinical investigators have extensive expertise across many cancer disciplines, including: radiation oncology, medical and surgical oncology, and nuclear medicine and theranostics.
Through our proprietary tools and agile approach to data management, we provide our sponsors access to a unique real-world data asset. This helps support product development via clinical hypotheses testing, improved trial design, enhanced feasibility analysis and accelerated recruitment. We adhere to the highest quality and ethical standards in research and have a rigorous global quality management framework and systems implemented across our network.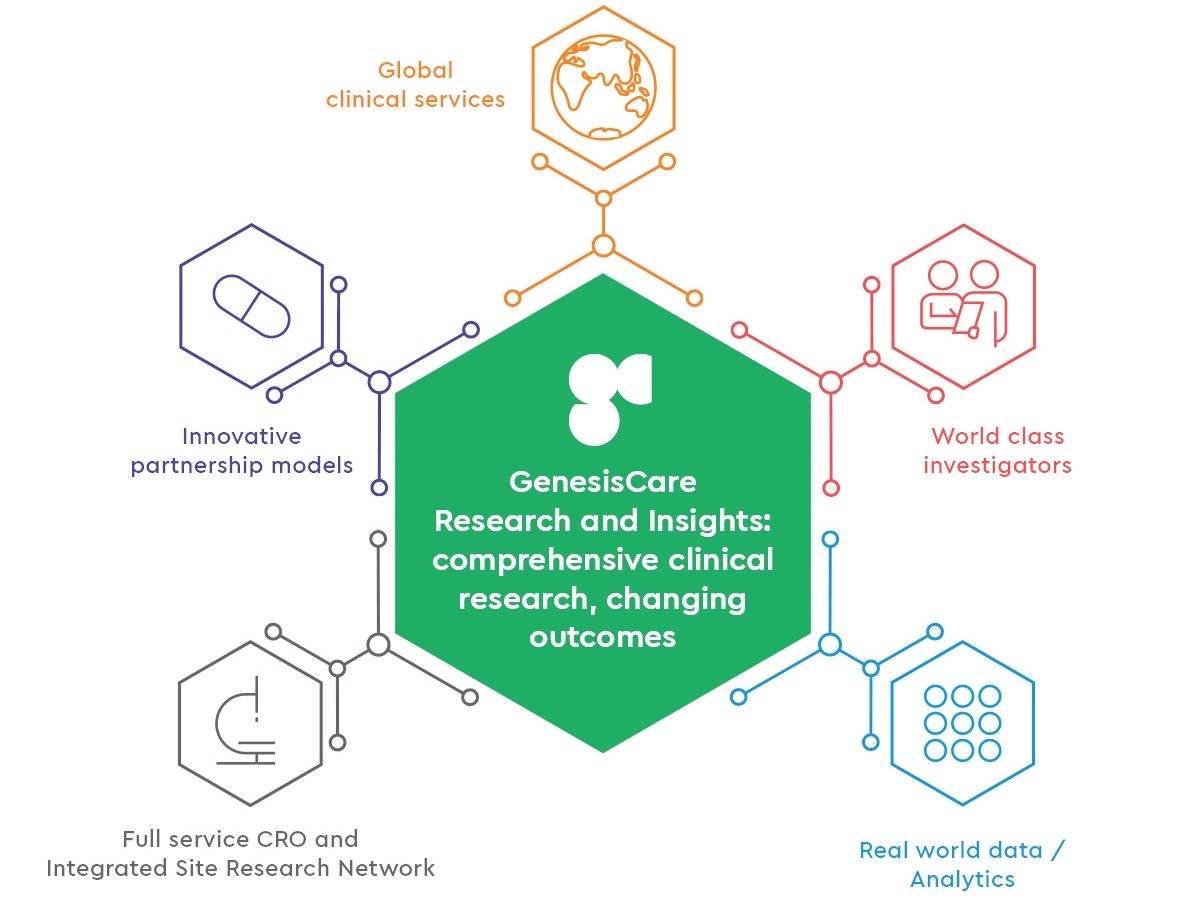 Every new therapeutic discovery and development is born from clinical research. Many treatments that are now considered standard of care and administered in hundreds of countries across the globe started off at a laboratory bench somewhere, with a curious group of individuals.
Clinical research is a critical component in expanding treatment options and improving outcomes for people living with cancer all around the world.
GenesisCare Research & Insights is committed to answering the unsolved questions in cancer care, to find better and more cost-effective ways to prevent, diagnose and treat cancer.
We are focused on connecting every person to the future of cancer care research – anywhere, everywhere access for all.
Our purpose is to partner with our customers to increase access to life-changing medicines and technologies, to advance the future of cancer care and ultimately, to save lives.
Our vision is a future where every single cancer patient has the opportunity to participate in a clinical trial or access potentially life-saving new therapies.
We see the patient behind every number in a spreadsheet. Our patients are at the core of everything we do, and are what drive us to continually innovative and collaborate to accelerate life sciences research.
Research & Insights News Updates