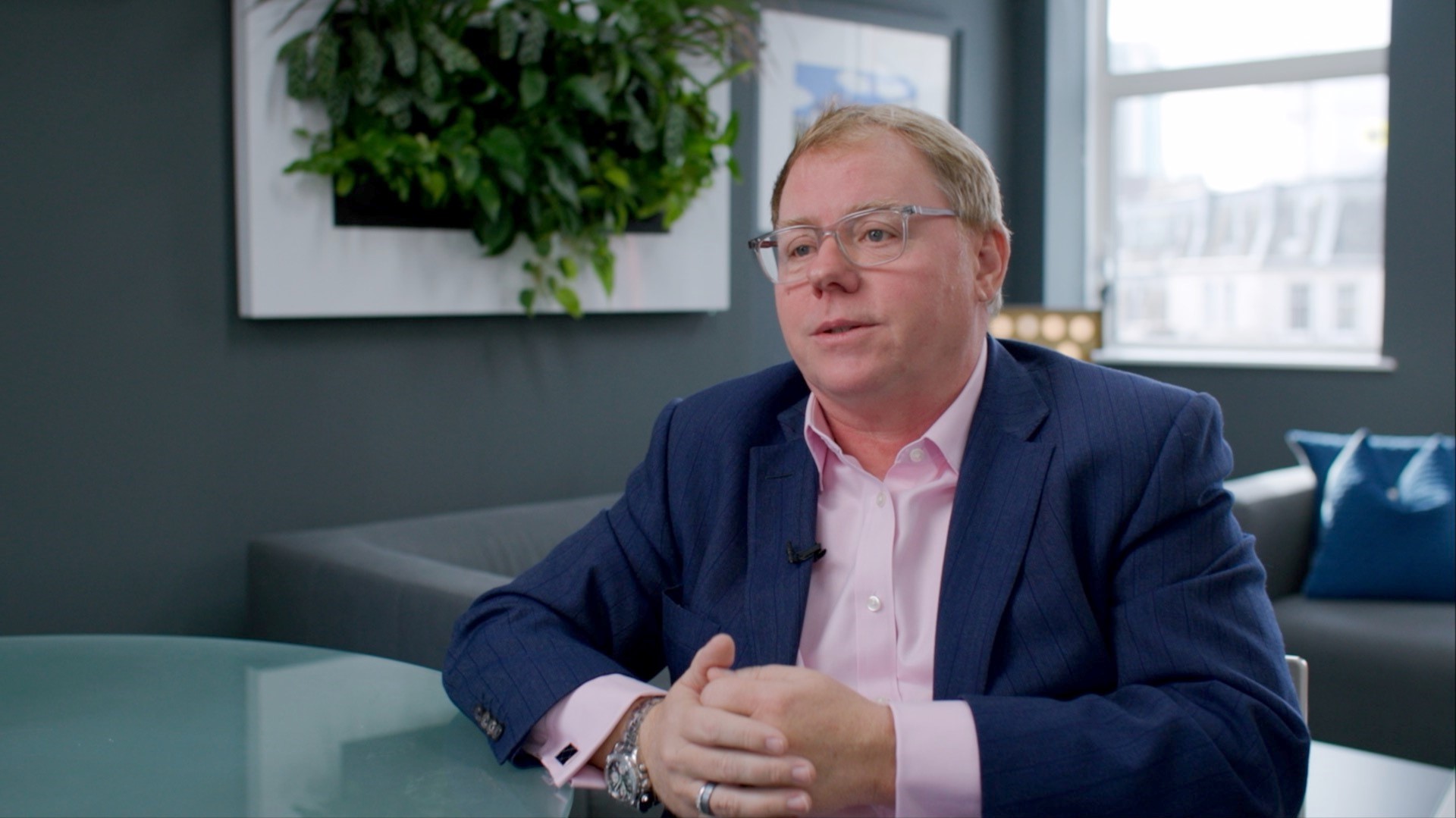 Treatment without compromise
Prostate cancer is the most common cancer in men in the UK, with one in eight men diagnosed with the disease in their lifetime.

Despite its prominence, a third of men are unsure of what treatments are available and concerns about side effects is one of the most common reasons some men delay seeking medical advice for prostate related issues.

Working alongside Prostate Cancer UK, we want to ensure men feel fully informed, so they seek medical advice as early as possible and are more confident to discuss their treatment options should they receive a cancer diagnosis.

As leading experts in the diagnosis and treatment of prostate cancer, we provide many of the latest innovations which aim to treat the cancer with minimal side effects and improved outcomes.
Contact us today to find out more about the prostate cancer treatments we offer and the world-class cancer care we provide. 
It's important that men understand their treatment options and feel empowered to make a decision that's right for them
- Laura Kerby, Chief Executive, Prostate Cancer UK
Many treatment options are available
So what are the facts?
First of all, it's not a one size fits all approach and there are many prostate cancer treatment options available, depending on the stage and grade of a cancer diagnosis. Tests and scans can help doctors understand everything they can about a cancer diagnosis and help inform and guide what treatment options would be best for that patient. 
For some, treatment might not even be necessary right away as prostate cancer is typically slow growing.
For others, the broad treatment options include surgery, radiotherapy, chemotherapy, hormone therapy, targeted therapy, immunotherapy, and more. These can be used on their own or together at the same time, or one after another. 
Also, there are lots of different types of radiotherapy techniques, chemotherapy drugs, etc., each with their own considerations to be discussed when planning what treatment is best for a patients individual needs.
Modern advances improve outcomes
At GenesisCare, we have pioneered the use of modern prostate cancer treatments that not only aim to treat the cancer, but also minimise the side effects and impact on quality of life.
Here are some examples of the treatment options that we provide, all designed to improve outcomes for men with prostate cancer. Some of these treatments are exclusively available in the UK at GenesisCare.
MRIdian MRI-guided radiotherapy
The MRIdian MR Linac is an advanced radiotherapy technology that combines high-resolution magnetic resonance imaging (MRI) scanning techniques with extremely powerful radiotherapy beams to treat tumours more accurately and quicker than conventional radiotherapy.
The MRIdian is considered especially ground-breaking because it turns on the radiation beam only when the tumour is positioned precisely in the treatment window and turns off the beam in an instant if the tumour moves even by a fraction – helping to protect surrounding healthy tissue and organs from unnecessary radiation exposure, leading to fewer side effects.
It also provides a safe and effective treatment option for men who experience a recurrence of their prostate cancer following previous prostate radiotherapy.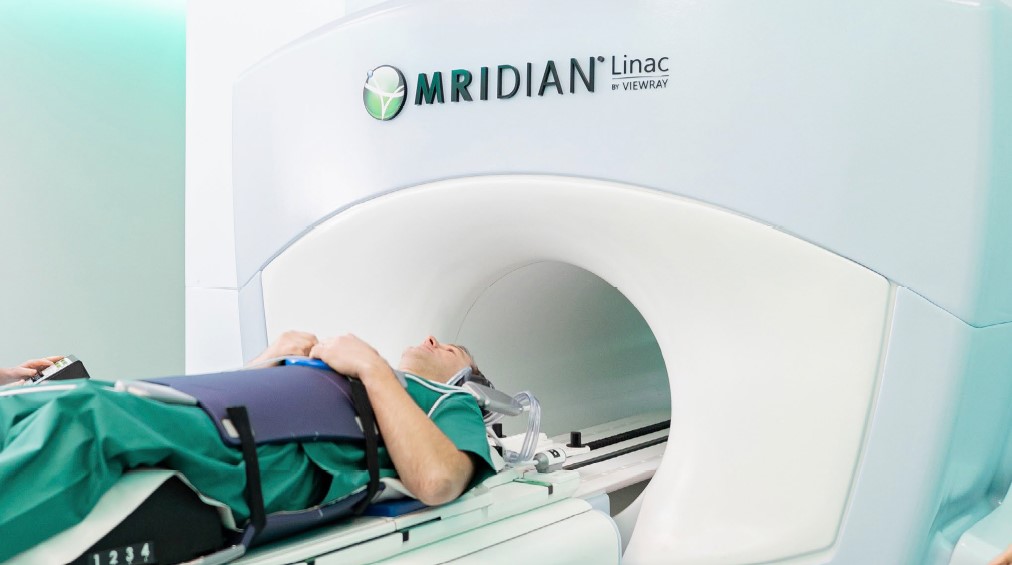 Stereotactic ablative radiotherapy (SABR)
Stereotactic ablative radiotherapy is a specialist non-invasive treatment technique that treats tumours safely and effectively.
A big advantage of this type of radiotherapy is that it can be delivered in as little as five sessions over the course of one or two weeks, instead of the conventional 20 or 39 sessions over many weeks.
SABR is delivered on our state-of-the-radiotherapy machines across our network of centres, and the MRIdian MR Linac which is exclusively available in the UK at GenesisCare's centres in Oxford and London. 
Spacers for prostate cancer radiotherapy
Minimising side effects is often just as important to consider as treating the actual cancer.
That's why for some men receiving certain types of radiotherapy, we offer prostate spacers as standard and at no extra cost. This small absorbable spacer, inserted in a short, one-off procedure which can be performed under local anaesthetic, protects the rectum during radiotherapy treatment by moving it away from the prostate gland.
Studies have shown that patients have fewer bowel-related, urinary, and erectile dysfunction side effects, as well as improved quality of life, compared with those who don't have a rectal spacer inserted.
"We want patients to be reassured that innovative treatments and techniques exist that have minimal side effects and improve outcomes
- Dr Carla Perna, Consultant Clinical Oncologist at GenesisCare
What are the risk factors for prostate cancer?
With 1 in 8 men diagnosed with prostate cancer in their lifetime in the UK, being aware of your own risk, and being prepared to seek medical advice if you're at all concerned, is important, as an early diagnosis can lead to greater treatment options and better outcomes.

Risk factors for prostate cancer include:
Age – prostate cancer mainly affects men over the age of 50, with your risk increasing with age
Family history – your risk of prostate cancer is increased if you have a family history of prostate or breast cancer
Ethnicity – men of black ethnicity are twice as likely to be diagnosed, and at a younger age.
If you're concerned or meet the above criteria, speak to your GP about prostate cancer, even if you have no symptoms.
Prostate Cancer UK's risk checker
You can also do a quick 30 second personal risk assessment using Prostate Cancer UK's risk checker.
We specialise in the latest techniques for diagnosing and treating prostate cancer that are proven to be effective. Our teams of expert uro-oncologists continually evaluate the latest prostate cancer treatments so we can offer the most up-to-date options to every patient without delay.

We believe care should be available when and where patients need it most and should be designed to give them the best outcomes possible. Patients undergoing treatment at GenesisCare have access to complementary therapies through our charity partner Penny Brohn UK, and exercise medicine with specially trained physiotherapists, to further improve outcomes and quality of life.
We want to encourage men to learn more about their own risk of prostate cancer and find out about all the treatment options available to them so they're able to act quickly and make informed decisions.